The Tarantula Gang
in the Owens Valley
July, 2012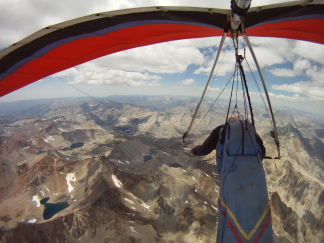 2012 is an auspicious year. It is the year for the Summer Olympics, it is the year for U.S. Presidential eleccion, it is a leap year, it is the year marking the end of the Mayan calendar cycle, but most of all, it is the year I finally broke my old 181 mile distance record and lay claim (with some qualification) to a 200 mile flight.
The yearly Owens trip is a phenomenal event all the Tarantula gang members look forward to, and to say it started out like any other year, which it did, is a little like taking the cosmos for granted. (Ho hum, the sun rose ... again...). Like the joke that says, "Why do you hit your head against the wall?... because it feels so good when you stop.", this is our week to stop hitting our heads against the wall, escape the mundane drudgery of earning a living and partake in what has to be the best of what this life has to offer - aweinspriring nature and human flight in its highest form.
The week for the Bay Area chapter of the Tarantulas starts out with in-the-rough camping in the Sonora pass at 9000 feet. Our campsite is off the beaten track in some beautiful country where we toss our sleeping bags under the trees that have bear claw marks on them and sleep under the stars. This year, five of us met up in Sonora pass: Donut (yours truly), Mumbles, Beaver, Short Rib and hm.... a new guy we will need to assign a Tarantula name to at some point. For now let's call him "Greenhorn". Greenhorn impressed us all by setting up a tent, and pumping up a queen sized air mattress for the overnight stay, while we all had a beer and some dinner around the campfire. 'Course, in the morning he had to drain the queen sized mattress and take down the tent, while we looked on with great admiration, drinking our morning coffee.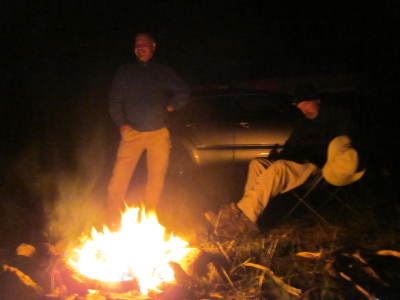 Now, Greenhorn has an admirable history in general aviation, with plenty of flying hours in his back pocket. But he is fresh to the hang-gliding scene with an intermediate rating with some smooth air time at Fort Funstion and some bubbly air time at McClure. So, I invited him along to see what Big Air was like (and, of course, be our driver for the first couple of days when everyone is champing at the bit to get in the air). He joined us for the weekend and I do think we impressed upon him the nature of the Owens Valley.
Saturday, July 6, 2012
We awoke to a beautiful sunny day, had our coffee, watched Greenhorn fold up his tent, then headed out to look at "launch". There is a launch site near the campground that overlooks a marine camp. In fact our campsite is right in the area that the marines practice war games. One year, Mumbles launched here and had to work hard not to land in the base itself, luckily getting a thermal that allowed him to land five miles away.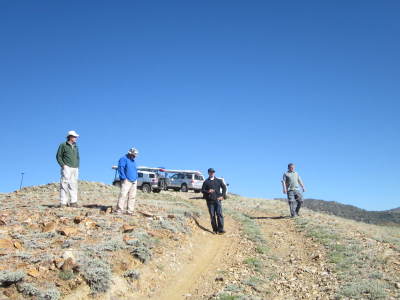 I've rediscovered biking this year, and brought my bike along on this trip. Standing at launch looking at the valley about 3000 feet below, I got the hairbrained idea that I should bike to the bottom of the hill rather than drive down. So, I grabbed the bike and headed off. Of course, I forgot that the first mile, or so, had some challenging uphill areas... that is, uphill at 9000 feet of altitude. I definitely got my cardio workout for the day. The coast down the hill was exhilirating! First the dirt road, then highway 108. I managed to turn my brake discs blue.
We stopped for our usual coffee in Bridgeport then took the beautiful drive down 395, past mono lake, past Mammoth Mountain, and down into Bishop, arriving around mid-day. In Bishop we met the a contingent of the Fresno chapter of the Tarantulas: Lolo-no-goals, Skippy and a new guy, Greenhorn2 and his lovely assistant. Lolo later suggested that we stage a boxing match between our Greenhorn and their Greenhorn and take bets. No one asked the Greenhorns. Of course, Greenhorn2 had eight years of flying experience and was along to get his first taste of Owens Valley flying. He got a good sample after going to launch three days in a row and then not-flying. He and his lovely assistant headed home on the fourth day... which of course, ended up being the best day.. but I'm getting ahead of myself.
It was winda-hey (windy, real windy) in Bishop, but we decided that it might calm down by evening and chose to head up to Piute for a potential late afternoon flight. Mostly, I wanted Greenhorn to get a real taste of what driving in the Owens was like so he got the steering wheel for the drive up. The road up Piute is the standard we use when we buy tires for our vehicles. It is rough, with areas of broken shale, narrow, and sometimes leans toward the 4000 foot drop off, causing everyone in the car to lean in the opposite direction in hopes to stabilize the car.
After surviving the trip up, we sat at launch on Piute watching the wind howl for a couple of hours. To describe this allow me to murder Da Vinci's quote:
When once you have tasted flight [ in high winds in the Owens Valley ] , you will forever walk the earth with your eyes turned skyward, for there you have been and there you will never return unless the wind dies down.
Saturday ended with a drive back down the steep Piute hill, a swim in the Owens River near Laws and dinner at the new BBQ place across the street from J Diamond Ranch, our home campsite. Good food, and a good contender to Bill's BBQ at the other end of town.
Sunday, July 7, 2012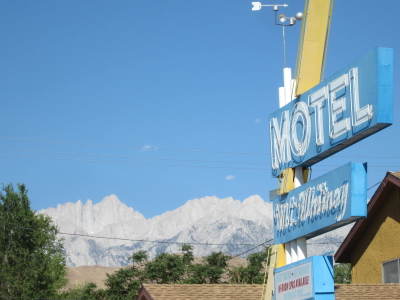 It was an early morning start. We had our driver and the Fresno contingent had their's so we headed with two vehicles for Walt's Point at the South end of the valley. The day looked like it was shaping up pretty well. After breakfast at Carl's Jr, we headed up the mountain. A stop at the turnout on the way up indicated moderate South winds. Undetterred we headed up to launch.
Skippy launched first and did a good job of getting over launch. Lolo followed shortly thereafter and we watched as we saw him get pounded by sink. I made sure that Greenhorn was taking note as he was anxious to get back and fly this place, and was still short on the first-hand respect you must have for the Owens Valley. I've always said that if you don't take off with respect for this place, you will land with respect for it. Best to enter with respect.
I launched next and slowly climbed out and up over Wanoga peak. I was unaware of what occurred next on launch until I landed. More on that, but I was a bit bewlidered why there weren't more radio checks and position reports for the first part of my launch. I heard both Lolo and Skippy end up at the Alabama hills. But I pressed on, the day looked good.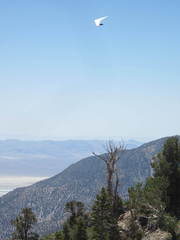 The air was moderately turbulent. Indeed, there was a Southwesterly wind that was spilling over the Sierra Nevada spine and it made you aware of just how vulnerable you were when you got low and below the peaks. Flying a topless glider, with no upper rigging, results in watching your wing flex negatively for a moment, followed by the slap of the wires going taut as your stomach goes into your throat and you fly over the falls.
I crossed Tuttle Creek, Whitney Portal and finally climbed up over the spine. It has been my experience that once one was that high, they were nearly always guaranteed an attempt at a valley crossing. I passed Onion Valley over 13,000 feet and was getting excited about the prospect of the day, but continued to scratch my head about why I was alone on this trek. I cleared a very high ridge that normally takes 20 minutes to get around if you don't get over it and pressed on, only to be have fate turn against me and flush me out of the mountains. I was sinking fast enough to make me concerned about making the highway. But make the highway I did with plenty of margin and landed in a nice dry-lakebed-like surface near the road, just South of Tinemaha Reservoir for a 39 mile flight.
The chase vehicle showed up shortly thereafter, full of people. Mumbles approached me with a nice ice-cold Gatorade and beer. Them's the attributes of a first-class chase driver. Mumbles had a scratch on his nose, so I asked if he got that on landing. "No....", then he described to me the incident I had not been privy to until now, of getting a wing up and being flipped over on launch. Evidently, the group that was to launch after him got discouraged and decided not to fly, but broke down and drove down instead.
Greenhorn was impressed with the 39 miles. It is, indeed an impressive flight anywhere else on the planet, save perhaps Zapata, but in the Owens it feels more like a failure than an accomplishment. I told him to stay tuned.
Greenhorn had to head home that afternoon, so we lost our driver, but since Mumbles had volunteered his services for the rest of the week we were in good shape.
The day ended with a dip in Keough Hot Springs, movie and dinner. The movie was Prometheus. Not bad for an Owen's movie. Definitely something you wouldn't take the kids to at home.
Monday
Monday was very much a repeat of Sunday, but with less activity. We got an early start, breakfast at Carls, drive to launch with a stop at the turnout to note that the wind was stronger from the Southwest, and up to launch. This day we all set up, then all but me broke down after watching the wind blow over the back all morning.
I am an incurable optimist, and I hung on for improved conditions. On more than one occassion this has turned out to be a benefit, but it usually gets my peers pointing and laughing at me. There's the day at Indian Valley... well, never mind. Sometimes I get the last laugh.
Once everyone else had broken down and loaded their gliders to the tops of the cars, leaving my lone glider set up on take-off, conditions started to look great. I suited up and launched and, indeed, made everyone standing on launch wish they had waited and followed. What ensued, however, confirmed that the majority had made the right decision.
The first hint I got that I had made a mistake was when I was able to climb up over Wanoga peak, head back toward the rim that heads North, and park, pointing Southwest on the West side of the ridge. I couldn't maintain myself on that side of the mountain, so I had to dive over to the East side and deal with the turbulence. At first it seemed manageable, and I tought that perhaps I could have a go of it. No sooner had this thought crossed my mind than I found myself going over the falls, accelerating downward, gripping on to the basetube with all my might and praying that the glider would not end up upside down. In my mind I was in this dive for an hour and a half, although it was probably more like a second and a half. I was not that high over the ground.
Normally, I take turbulence as a challenge. Today I took it as a warning and headed for the highway. Once away from the mountains the air was glassy smooth to the point that I dismissed any fleeting thought of crossing the valley this early. I landed at a nice green field at the North end of the Alabamas, again, next to the road. The chase vehicle showed up with the obligatory Gatorade and beer although the 13 mile flight hardly warranted it.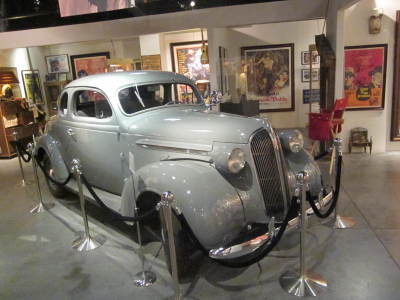 We spent the rest of the day visiting the Lone Pine Film History Museum, having lunch, hiking around Whitney Portal, visiting Klondike lake, and then back to camp.
Tuesday!
At the risk of sounding like a broken record, Tuesday started out like the previous two days. But today was to be a special day. The Owens Valley is like that. It rewards the dilligent, the persistent and the experienced. It thumbs it's nose at the hit-and-missers. If you are one, but boast of a good day, you are nothing more than lucky.
Everyone wanted to fly today, even Mumbles who couldn't, but generously provided his driving services. So we piled everyone into two vehicles and drove toward Lone Pine, leaving one vehicle at the parking lot of the Manzanar museum, just a few miles North of Lone Pine. I guess we counted on someone not making it too far North of there so we could retrieve it, but internally we all said "not me" to ourselves. From Manazanar, we all scrunched into a single vehicle, like a 50's college telephone booth antic and rode up to the Walt's Point launch.
At Walt's Point everyone was buzzing. The day looked much better than it had with no wind blowing from the South and nice thermals rolling up the front of launch. Beaver's balloon soundings went straight up, showing no drift indicative of South or Westerly wind, beckoning us off of launch. Everyone focused on preparing for launch and choosing the right time to go. There were several other pilots there besides our group.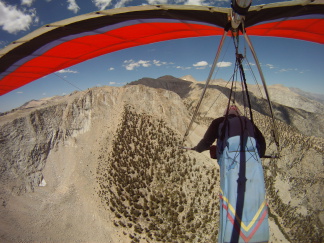 I followed Lolo-NoGoals and Skippy, launching right around 11 AM. Getting up was not as easy as it had been on the previous days, so I worked around launch for a good while before getting high enough above Wanoga peak to strike out. On the radio Lolo was announcing his location and was running. It sounded like he was making good time, but it seemed fast to me for the early conditions.
There was traffic before getting to Whitney Portal. At one point I was thermalling, wingtip to wingtip with two other gliders, something I would do with no concern at the local flying site, but somehow, flying that close in air that might suddenly change your direction seemed a bit uncomfortable. I was being outclimbed and passed at times, but I chanted inwardly, "patience grasshopper". Lolo was leading the pack and running. Its times like these I am tempted to pour it on and try to catch up, but I focused on getting as much altitude as possible before moving to the next spine.
After crossing Whitney Portal, I got up to 13,000 and started moving more quickly. I heard on the radio that Skippy had headed out to land just North of the Alabamas and I thought how generous it was of him to be the one to retrieve the second vehicle. Oh well. At this point, Lolo was running ahead, Beaver was somewhere near and ahead of me, and Short Rib was close, but not announcing himself too often.
Somewhere just South of Onion Valley, everyone (except Lolo) were reporting altitudes of around 15,000. Conditions were allowing for high climbs with little Westerly wind turbulence. Sadly, we heard Lolo announcing landing around where I landed on the first day, just South of Lake Tinemaha. 'Course when your motto is "no expectations", you have to tuck away a 40 mile flight, put a smile on your face and enjoy the rest of the day.
I was getting higher and higher in each thermal as I approached decision-making time for the valley crossing. At this altitude I allowed myself to be deep and high over the Eastern spine of the Sierras. From this position, any Westerly component of the wind was actually a benefit, since you are flying in the area where the air is lifting over the range rather than in the aerial waterfall a short distance to the East of the spine. At Tinemaha peak, the "traditional" Northmost point for crossing, I was nearly two miles West of the peak and at 17,000 feet. I opted for the "road less traveled" and chose to stay on the Sierras and cross over Coyote flats, and directly over Bishop. This is a crossing that has worked successfully for me several times before, but requires altitudes above 15,000 to not get into too much trouble with the afternoon East side Sierra sink.
As I flew across Coyote Flats, I heard Beaver announcing landing somewhere near the South side of Bishop. Short Rib was starting his crossing from Tinemaha. I got no sink, even lift sometimes, in my crossing, directly over the Bishop airport, arriving near Laws at 11,000 feet. Between Laws and the White mountains, however, I experienced my first sink, getting down to 9,000 feet before I encountered something worthwhile to turn in.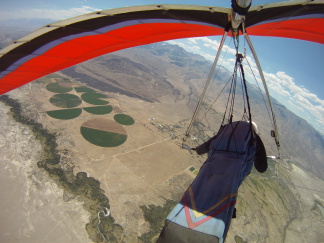 Short Rib was low and doing the standard burbling in light thermals along the corridor North of Big Ears, east of the Owens river. Beaver later reported to me that he thought he got heat stroke, as it was a very hot day down on the ground. I know how miserable it can be to be dressed for high altitude, all jacketed and gloved and working miserably hard at trying to stay in 100 fpm thermals in the hopes that something will finally break loose and get you away from the ground. That skyhook ticket was not to be today for Short Rib, and he soon was on the ground guzzling an ice cold Gatorade.
This left me as the only one still in the air. I radioed to Mumbles that I was now at Gunther, climing at 1000 feet per minute and I intended to run the Whites fast. He responded with the appropriate whip snapping for his pick-ups, dumped them off to camp at Bishop and started running after me. And run, I did. After getting to 14,000 at Gunther I did not stop until White Mountain for my next thermal.
Everyone who flies the Owens Valley has their favorite "big scary thermal" location. For some it is Black, for others the Sierra westerlies, for others it is Boundary Peak. For me, it is White Mountain. I've been "flipped" over twice by this thermal. Fortunately, not in the tumble-go-negative-throw-your-'chute kind of way, but more in the over-the-falls, hang-on-to-the-basetube as the glider emulates climbing in a very powerful thermal... only upside down. On both occasions the glider flew out of it with no alterations other than the wrinkles my fingers put into the basetube from hanging on so hard.
Today I approached this same thermal. It is generated by the convergence of several steep canyon walls at a peak and sharp ridge in the shadow of White Mountain. Today it was pumping as powerfully as ever. I flew into it much faster than one would normally approach a thermal and talked to it, begging for ride to the top without too much damage. It complied but reminded me of my puniness as it picked up my tail and flung me into the core. I wrestled with it and focused on maintaining an edge of control that kept me from spilling over to the thermal's edge. Before you knew it I was looking way down on 14,265 foot high White Mountain Peak, from 18,000 feet and finding it harder to breathe.
Mumbles was now flailing along highway 6, North of Bishop, as fast as he could to catch up with me. As I pulled my VG on to notch IV and pointed at Boundary peak, I radioed, "Rick, Nevada is full of cloud streets with high cloud bases!". "Go, man go!" was the response.
I had hoped that I could go directly to Boundary, but found some sink at the North end of the Pellizers, which required me to back-track to a thermal. Eventually, however, I was going for altitude at Boundary peak as Mumbles got to Janey's. I encountered cloud base at 19,200 feet and instructed Mumbles to push on into Nevada. For the next 40 miles, I stayed between 15,000 and 19,000 feet under clouds, stopping once to thermal because I felt "low" (at 15,000 feet). On only one other occasion had I found making progress in Nevada this fast, and on that day it was too late to get far. I was at Luning relatively early and there was plenty of daylight left.
The valley East of Luning/Mina, however, was one big sink hole. I managed to get across, but only squeeked over the hills on the East side. This was about the 150 mile mark, and I had landed in this area two times prior to this. Down to 10,000 feet and finding only lift of 100-200 fpm, I was beginning to think that I would not go beyond this. Mumbles caught up and waited at a landing site I had used the year before. When he radioed, "Don't worry about staying near the highway, I'll find you anywhere". These words were encouraging so I allowed my drift in the light thermals drift me away from the road and toward a cloud that was still showing signs of good lift.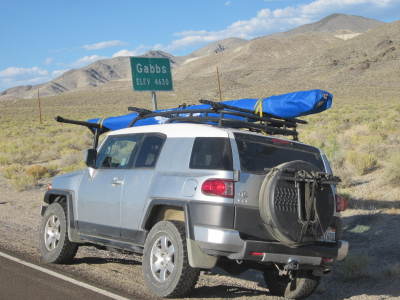 Soon the light lift that did little more than sustain altitude, turned into 400 fpm lift and I was on my way back up to 16,000 feet. I had now been in the air for over 7 hours and my neck was getting sore from looking over at my variometer. In two thermals I got to Gabbs and could see the end of the "yellow" valley North of Gabbs, where I had made my previous record flight of 181 miles 12 years ago. I thought what a shame it would be to have come this far and not go further. But the lift was running out and it was getting more and more difficult to climb. I slowly made my way to the East side of the "yellow valley" and found some very weak lift that I drifted into jackrabbit valley with. I climbed very, very slowly until it seemed that making circles was not productive to gaining altitude and soon I'd be chasing the sun for duration and distance. So I turned North, leveled out and flew at min-sink in the evening glass-off. The dry lake bed ahead looked beyond my glide but the air was bouyant. I saw Mumbles catching up on the dirt road below. He was calling out wind for me, but I could tell from his dust that the wind was very light from the West.
To my surprise, I was going to make the dry lake bed with ease. The road I was following T'ed into a paved highway and it didn't look like there was any access to the dry lake bed, so, even though I still had 1000 feet above the ground, I chose to land at the T. Mumbles was there already, giving me wind and putting up streamers. I approached at speed, and did my landing right next to the vehicle. Mumbles and I were dead sure that we had finally broken the 200 mile mark. Landing happened at 7:55 PM. The flight had taken 9 hours.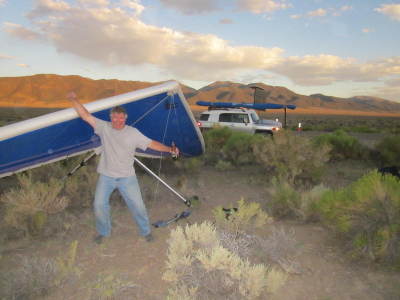 After celebration, pictures and breaking down, we decided that we would drive into Austin for dinner. Austin has been our elusive goal for over 20 years and we had now landed within 25 miles of it (not a far distance when you are out in the middle of the Nevada desert), so we decided we needed to at least get dinner there.
With pictures of steaks and baked potatoes dancing in our heads, we pushed on to Austin, only to find, once again, that the only food we could get at 9 PM was at one of the local bars where they would possibly throw a frozen pizza into their oven for us if we asked real nice-like. The tradition of the quality of dinner being inversly proportional to the quality of the flight remains well intact.
I was sore and tired, but I managed to stay awake for the three hour drive back to camp at Bishop to keep mumbles company while he did the driving. Had I driven I surely would have killed us both. We got back at 2 AM.
Wednesday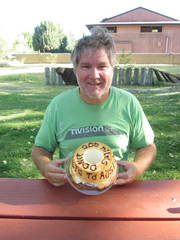 The rest of the crew awoke early to head back down to Lone Pine and Walt's. I got up but with no intention of flying today, but willing to drive if they needed. No need as Squinty and his daughter showed up and volunteered to drive that day. But before they headed off, they presented me with an angel food cake (round with a hole in the middle, looked like a donut), with the words,
"Donut 200 miles, Walts To Austin".
Mumbles had called ahead the night before to let them know how far I had gone.
So the Fresno contingent and Short Rib headed off to Lone Pine. Mumbles, Beaver, who wanted a day off of flying, and speculated it would probably over developed (and I agreed), and I stayed behind to have a leisurely day. We had some breakfast, then headed up to explore Coyote Flats. The day before I had flown over this area on my crossing and was anxious to see what it looked like from the ground. There is a distinct runway that can be seen from the air, or if zooming in on Google Earth. We wanted to set out to find this.
We grabbed some sandwiches for lunch then headed out to find the road to Coyote Flats. The road to Coyote Flats was what the FJ Cruiser was made for. Rough, torn up, seemingly impassible in places, but with preserverance we made it up to the plateau West of the area between Bishop and Big Pine. We climbed up the North end of the area, feeling our way up dirt roads to the West of Bishop. We found a great spot overlooking the flats up on a hill to have lunch, but try as we may we could not see the runway. Even later, going back and visiting in Google Earth it is as obvious as the nose on your face, but standing right next to it there, we could not see it. Next time, if there is a next time, I'll take actual GPS coordinates with me.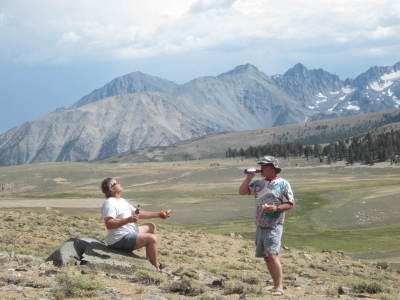 The Coyote Flats area is magically silent and peacefull, with a backdrop of the Sierra Nevada, still with snow on the mountains in July. Flat green areas have cattle roaming on them, even though the altitude here is 10,000 feet.
We drove to the South end of the flats, hoping to find a way down into Big Pine but came up empty. Sadly, we had to turn back and make our way back down the rough way we had come. As we bounced our way down the road, we decided to stop and take a look out at the valley. The day had indeed over developed and the White Mountains were covered in black cumulonimbus clouds that were dropping virga and rain. The sun was low in the West over the Sierra's and the scenery was spectacular. Yes, we took pictures, but pictures don't tell the tale of actually being there to appreciate the beauty.
When we got back to camp, we learned that the rest of the crew had not flown because of the weather. We all headed down to Bill's BBQ for dinner. Lolo immortalized my 200 mile flight by scratching into the restroom stall wall, making a point to take me in there to show it to me, which was awkward for the gentlemen already in the restroom (and a little awkward for me, too).
Thursday
We awoke to clouds and a weather forecast that promised to be worse than the previous days. Normally, we would not head home until Saturday, but the forecast was making it look like we would be faced with rain for the next three days so the decision was made to pack up and head home early.
We all headed to a leisurely breakfast, back to camp to break down and then off on the drive home. The Fresno contingent headed their way and the Bay Area boys headed our way. We decided to visit the petroglyphs on the rocks in the area North of Bishop, kind of on the way home, then take the roads not-so-traveled back to 395. The petroglyphs are believed to be pre-columbian art made by local natives, probably ancesters of the Piute indians. Interesting stuff for anyone with a archeological or anthropological slant.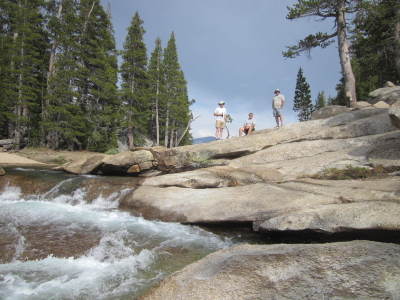 The sky's threatened rain as we headed out, confirming our decision to leave early. We hit 395, and chose to drive through Yosemite on the way home. We stopped at our usual drive home spot for lunch near Tuolumne meadows, and took a short hike out to a waterfall where we consumed our sandwiches and capped off a great week.
Conclusion
200 miles. Actually, when I got home and measured it, straight line distance was officially only 193 miles. However, if you make Boundary Peak at the North end of the Owens Valley a turn point, the flight is actually 201 miles. 200 miles is a much easier, and more impressive thing to say in a conversation so I'm sticking to my story that I flew 200 miles.
If you want to fly the course with me, run the tour in Google Earth here:
http://donburns.net/~don/Dons_200_mile_flight/
Whatever the case may be, we still have to conquor Austin proper. And then, we still have to beat Larry Tudor's Owens Valley record flight of 243 miles to 35 miles North of Austin.... from 1988. If I get another day like this one I know the one decision that might have made this a longer flight.