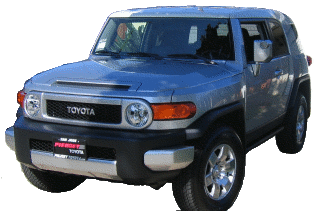 Hi, my name is FJay. I was born at a time when the price of oil was rising rapidly, and I am not a miser. It is incindental that my owner rides me to work and around to various mundane places the rest of the year... all which could be done with a vehicle of much better fuel economy. But I was born with a unique purpose, which justifies the gas, the cost and the heavy 4 wheel drive capabilities: The yearly trip to the Owens Valley.
My owner, Donut, whose name I'll explain later, has spent a great deal of time preparing for this trip and buying gadgets to plug in and equip me with. There's the heavy duty rack on the roof and front end to carry a big pile of gliders; the 2 meter ham radio and accompanying antenna attached to my hood; the GPS unit with a gentle voicethat uses topo maps and can find a spec in a desert, given the right coordinates; the extension cord that plugs into my 400 watt 110 AC plug for re-charging vario and radio batteries; the radar detector that starts any ride with a regular R2D2 greeting;and of course, the iPod that shares the main speakers with the 2 meter ham radio.
Friday, July 6 - We're Off
This year (2007) sees Donut and Mumbles riding out on the Friday after the fourth of July (July 6), avoiding all the traffic and arriving while still daylight just beyond the Sonora Pass in the California Sierra Nevada. The road over Sonora is one of California's best kept secrets. While the hordes are funnelling through the turistic Yosemite, we enjoyed a peaceful cruise up the steep climb into the pass and an unspoiled view of pine trees, rivers and majestic mountain peaks.
This is my first year, of course, but the boys found the regular camp site, which had been blocked by snow the year before, clear and awaiting our arrival. It was nice to get into the cool 9000 foot altitude from the valley that was blazing with 105 degree heat. Camp was set, a fire made, dinner eaten, beers consumed and stories told, with the evening drifting into sleep under a full starry sky.
Day One, Saturday, July 7 - Sonora, Bishop, Piute, Tonopah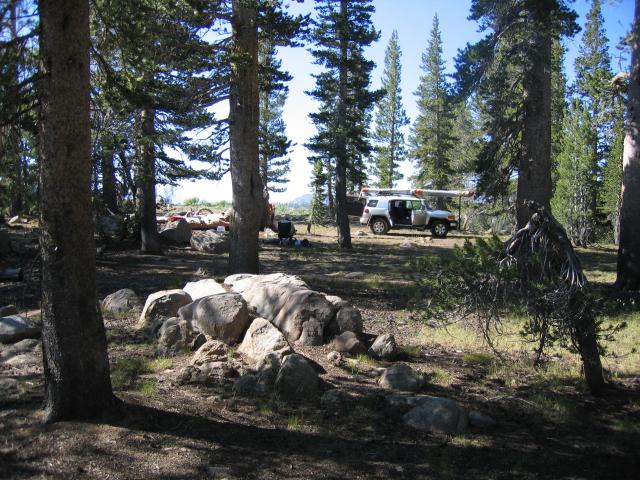 We awoke to a beautiful morning, sun shining, but wind blowing... the wrong way. Mumbles had flown from a launch near camp just a few years ago. We drove out to take a look, of course, as obligated and snapped a couple of pictures down toward the Marine base in the valley below. Mumbles relates the thermal he got way too low over the base the year he flew, and climbed away from what seemed like sure trouble riding up in a Marine jeep on the road below.
The campsite we used happens to be on public land that is used by the nearby marine base for "Mountain Warfare Training Center (MCMWTC)". Interestingly enough, as we made our way out we ran across this strange set of seemingly abandonded huts, dictating of course, that we stop and investigate. Turns out, the marines had created a temporary "foreign village" simulation. The huts were made of fiberglass shaped to look like stone huts and contained very authentic looking tapestry, bedding and kitchenware, typical of a middle eastern culture. Something told me that any Afghani or Iraqi who lived in the real thing would feel quite comfortable in these.
Anyway, California's most expensive coffee from Bridgeport and lively conversation made the way to Bishop fly by the rest of the morning. As we pulled into town and the usual base camp at the J Diamond Ranch trailer park in the middle of Bishop, we were greeted by Ev... well, actually, I'm going to call him Crush (remember Finding Nemo?). Crush offered to drive for us and assured us that he was fully qualified by presenting as much hang-gliding terminology in a sentence as possible. Add the Crush voice and you get the picture. Donut had his doubts, but after realizing that there were only two pilots with any possibility of flying today, the idea of having a hired driver was very appealing. A quick drivers license check and Donut was satisfied (Crush's response, "Shwaahh, yeah... no problem.... smart dude").
The East side of the Sierra Nevada was on fire. Consequently the valley was filling with smoke. We were first headed for Flynn's, a launch only 1500 feet above the valley floor and close to town, for convenience sake. But when we got a view of the smoke covering the sky there, we decided to try Gunter. As we neared Gunter, we saw that the smoke was about to cover it as well. So, we headed for Piute.
Piute is famous for its ability to claim tires. Donut had not gotten me any new off-road tires as I only had 12,000 miles on the current set and buying thick off-road tires was not always a guarantee of immunity to Piute's sharp shale road. Looking back, I arrived home with my original tires and no sign of damage anywhere, after two trips up Piute, two up Gunter, one up Cerro Gordo. But I'm getting ahead of myself.
A quick set up and both Mumbles and Donut launch into skies that are now being overtaken by smoke. Donut launched first and raced his T2 (Donut has been racing since he got the T2 last year) down the range to just beyond White Mountain, all below 10,000 feet, which is quite lower than normal. At White he climbed up to range level and headed for boundary where he started climbing.... waiting for Crush to announce that he was on the highway.
After some calling on the radio by both Mumbles and Donut, trying to raise Crush, Donut started to wonder if maybe he hadn't handed me over a guy who was happy to drive me to Mexico and get a pretty penny for me. I wasn't worried, of course, but I had no way of letting Crush know that he had thrown the frequency of the radio off. After much radio silence, Crush figured it out.
Donut had been hanging out, drifting into Montgomery pass at altitudes much higher than should be published here , and where the alfalfa fields were actually visible from within Montgomery pass.. Relieved, Donut 180'ed and proceeded to choose between Tonopah and Gabbs. Crush turned out to be a first class driver, providing the right wind speed and direction at the appropriate times, the right amount of radio contact and the occasional word of encouragement that kept us going. Kudos to Crush.
Cloud streets were stretching more in the direction of Tonopah, although somewhat between both. Had this been an earlier run, the course might have gone directly toward the Shoshone mountains and beyond. As it was, avoiding a late night search in the dark for a downed pilot in no-man's land, Donut decided to veer toward Tonopah in the direction of paved highway and restaurant dinners. This, however, not before flying in a straight line, not stopping to thermal, for about an hour and a half at above really high.
Mumbles landed a good ways beyond Coaldale and Donut landed just outside of Tonopah. At dinner, the waitress asked, "How's it going boys, hot enough for you?", to which Donut replied, "I was frozen about an hour ago". She thought she was being messed with, but it was the truth. Donut was experimenting with layered clothes this flight instead of the usual down jacket, and was met with a failed experiment and chattering teeth.
Crush took the wheel and let Mumbles and Donut rest on the trek back to Bishop. Back in town we met the rest of the crew, who had showed up during the day, (Donut and Mumbles had actually had a short radio conversation with them while in flight earlier), Skypuppy, Beave and Short Rib.
OK, its time to explain some of these strange names. Donut, Mumbles, and Short Rib are proper Tarantula names. If you are following this saga from last year, you'll have a short description of the Trantula club... er... gang. A tarantula name is one that is bestowed upon the participant against his will and is intended to be purposely degrading. Beave and Skypuppy are your standard run-of-the-mill nicknames, kind of cute and cuddly but with little degrading factor to them. Part of the goal of this week was to obtain proper tarantula handles for both of these, to which we failed, so I will continue to refer to them as SkyPuppy and Beave. (Although SkyPuppy did come dangerously close to being stuck with a doozy).
Anyway, Mumbles got his name because he used to be quite hard to understand on the radio. Donut got his name, probably because of superior wing loading, interpreted as being the result of a love of pastry. Short Rib got his name when he ended up missing a stellar day because he left a rib somewhere in the desert the day before, then dragged the whole group out there to look for it later (I could be wrong on that story, but that's what I'm told).
We broke the news to the present gang that flying the Sierras was out while the fire was in effect, which fearfully looked like the rest of the week at this point, and made plans to sleep in and prepare for the Whites on Sunday.
Day Two, Sunday, July 8 - Gunter
The tarantulas headed for Whiskey Creek for breakfast, first thing. Whiskey Creek is a favorite breakfast spot, but is only open on the weekends as of several years ago. It is the place to fill up with creamy cheesey eggs, coffee, and pour over maps of places yet uncharted in this gang's flying experience. After breakfast the obligatory trip to Giggles Springs to fill with gas, ice, gatorade and beer and we were off down highway 6.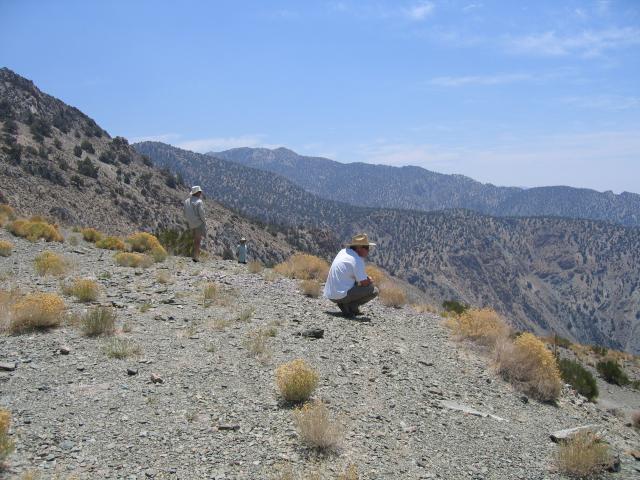 Donut pays for my tires. Given the choice between Piute and Gunter, he chose Gunter. This is a good choice as Gunter is much gentler on the tires and a bit less of a steep climb. I'm sure Donut, who was driving today, also was thinking about not wanting to change a tire on the way down the mountain, which is one of the most dangerous things one can do when hang-gliding in the Owens Valley.
Conditions looked promising and Mumbles, Short Rib, SkyPuppy and Beaver set up as conditions built. Launches happened between 2 and 3 PM and as soon as everyone was in the air, I was headed down the mountain. On the way down, Donut stopped at Freebase (or is it Cocaine?), which is a seemingly out-of-place sand dune made of very white sand. Donut was eyeing some tracks on the sand and I know he was thinking about stretching my 4WD legs and having some fun on the clean white sand. I kept trying to point out to Donut that the tracks were made by all-terrain bikes, not heavy 4WD vehicles.... but he has yet to listen to me. Luckily, he came to this conclusion on his own and we headed for the highway, leaving behind the possiblity of putting a big hamper on the day by getting stuck in sand. I'm good, but I'm not that good.
Everyone made it to Nevada. In fact, everyone landed within a short distance of each other. Mumbles and Beave landed first at the North end of dust-devil valley. Named as such because it has a dry lake bed at its lowest point, which has a constant parade of dust devils dancing down the middle of it. We've concluded that this must be the site of the convergence that often results in a North wind stopping any further progress North into Nevada. Today was no exception and everyone got shot down at the same place. SkyPuppy, however, reported on the radio that he had cleared the mountain range and was headed for Jackass Flats. Great! Jackass Flats is not really named that on the map, but for some reason it was named that last year when Short Rib and Mumbles landed there on the last day of the trip. It has a very nice dry lake bed in the midst of it and is a beautiful secluded environment. We looked forward to going and picking up SkyPuppy, even though it was a long drive around the mountain range he had claimed to jump over.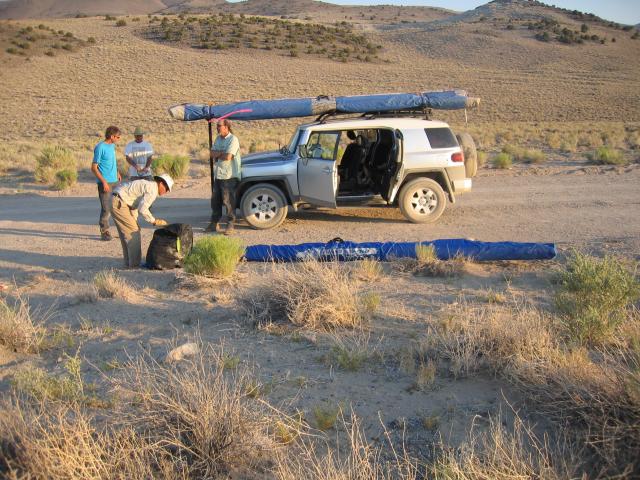 Short Rib radioed in that he was approaching where Mumbles and Beave had landed so we waited for him to put down and break down. Once packed up we shot off down the nice wide dirt road at freeway speeds (Dount pushing my throttle to the floor) to make it to Jackass Flats while we still had daylight. As we radioed SkyPuppy to let him know that we were on our way, we noticed that his radio signal was getting much better than should be possible for line-of-site radio signals bouncing over a mountain range.
Suddenly we flew past SkyPuppy sitting by the side of the road. It turns out that he had hopped a small set of hills (not the mountain range) and landed at a small sort-of dry lake bed kind of a thing, and mistakenly thought he was in Jackass Flats. OK, no _this_ was a great opportunity for the cristening of a new Tarantula name. Hm.... SkyPuppy needed a new trantula name and had landed in Jackass Flats... hm.... Unfortunately, the only thing we decided about the name Jackass for SkyPuppy was that he hated it. It was just not descriptive of the nice guy that he is.... We'll keep looking.
We stopped for the boys to have dinner at their favorite Mexican Restauraunt in Bishop, where they found a group of smokey firefighters, who had been battling the big blazes on the Sierras earlier that day. As per their reports, the fire was only about 50% contained. It looked like flying the Sierras might not even be a possiblity this trip.
Day Three, Monday July 9 - Cerro Gordo
Normally, basecamp for this yearly event is in Bishop and on days that are going to be attempted from the Walt's Point on the Sierras, which requires a morning launch, we head out early for the hour and a half drive to Walt's. However, with the Sierras on fire, there was no need to push for early starts, so we dallied. We decided to try and have breakfast at the airport, get the skinny on the TFR (Temporary Flight Restriction) for the area because of the fires. We got our TFR report, but found a vacant room where the restauraunt used to be. The locals told us that the restaurant had moved into town, so we headed there, only to find it with a nice "sorry we give up" note on the door next to the closed forever sign. So breakfast was at Jacks.
Donut suggested Cerro Gordo for the day. This got us going a little earlier than we would for the whites, since it required the drive South. As it was we got a late start. At the airport we had been advised to check with the Forest Service as to the status of the TFR. There is a new facility in Lone Pine that is the sort of a home base for Forest Service information, so we stopped there and the boys went in to ask. They were cheerfully invited to fly with no restrictions whatsoever. Realizing that they were probably further informed about the state of the situation then those they were asking advice from, they pressed the issue. After a phone call the word came back that there were two TFR's in effect, with specific boundaries to 12,000 feet at some point just North of Whitney Portal to just South of Bishop. There was no date or time in sight for the lifting of the TFR, so the boys decided to keep the plans to flying the other side of the valley until further notice. Of course, Donut insisted he could stay above 12,000 feet at all times so it didn't matter, but no one else seemed to take him seriously. Off to Cerro Gordo.
Donut spoke of a time early in his flying career when he read of George Worthington's world record attempts in the 1970s. It had never occurred to George to launch from the Sierra side, and all attempts began from Cerro Gordo, which is at the Southmost end of the Inyo mountains that can be driven up to a hang-glider launch. The challenge was to launch as early as possible to take advantage of the remaining daylight in the day, but not so early so as to not find good lift. Consequently, George always launched in the afternoon, worked his way toward the Westgaurd pass, hoping to make it across and continue on the Whites to the North end for a flight of 100 miles. Westgaurd pass was George's nemesis, but was finally conquered and the first 100 mile flight took place.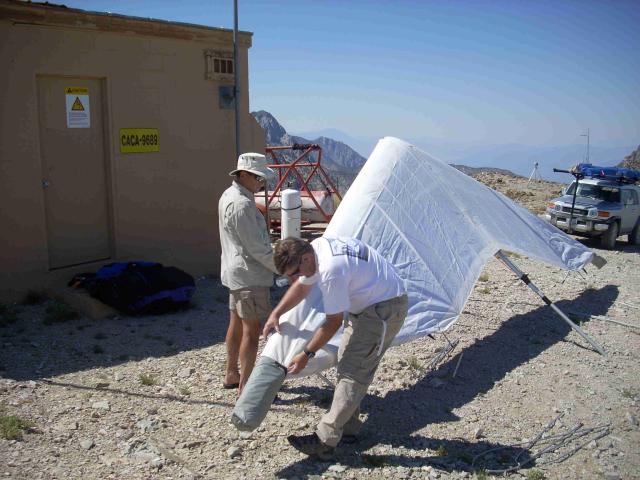 With all this history in the background and this being Donut's first time to Cerro Gordo, a flight, regardless of the conditions was inevitable, if for no other reason than that the historical site needed to be flown, even if it ended up in Keeler.
Keeler is a little town at the base of the base of the mountain of Cerro Gordo. We took a quick drive through it just to take in its unique setting. It sits at the "shore" of the once great Owens Lake. Owens Lake had been drained by a thirsty Los Angeles many years ago and what was left, where there once was a navegable lake (and in fact, there Keeler history that includes a steam driven paddle boat), is a bed of dry, white powder, containing chemicals that has made a good portion of the population of Keeler sick. That's another long and sad story from the legacy of the Owens Valley.
The road up to Cerro Gordo is much like any other road up the side of any of these mountains. It was in fact, quite nice. Near the top is an old abandoned mining town with signs of having been a thriving location at one time. It is told that there is currently a caretaker of Cerro Gordo, who is happy to arrange lodging and meals at the town with prior notification. Of course, the boys were just here to fly.
The wind at the top was strong and from the South East. Donut licked his finger and stuck it in the air and said, "awesome conditions" and started to set up. Seems that no one else shared his enthusiasm. The wind picked up a mile an hour with each rib that Donut shoved in his glider and by the time he was set up, even he agreed that it was too strong to fly, despite his over anxious desire to share the air with George Worthington's ghost. (George was killed in the 80s in an ultralight accident).
So the boys parked me to be a wind break for Donut's glider and sat down to tell stories. Among them were accounts of recent publications talking about "rolling rotors", a condition that occurs when strong, laminar wind blows over large flat areas, often causing hard landings that should otherwise be easy and smooth.
About a half hour later the wind started to subside and Donut suited up. With only three wiremen helping him out he launched himself to the South and gale dangled for a bit. Later he tells the tale of not being able to get much altitude, being faced with 30 mph winds with little lift and not being able to stay up once he left the South facing mountains around Cerro Gordo and flew along the face of the West facing Inyos. The flight ended just 21 miles or so from launch after a long downwind glide, parking into the wind and hovering down from 2000 feet over the flat valley floor with visions of rolling rotors on his mind.
Back in the car (me), someone unplugged one of the wires in the maze of connections that fed the radio's audio into the main speakers and some minor radio problems happened, but it was not critical for this flight and was easily remedied by finding the right plug, plugging it in and making everyone aware of the possibility.
I made a wind shadow for Donut's glider (again), and everyone broke down the glider and stuffed it in the bag. We headed up to Big Pine and the boys had dinner at the greasy spoon there. After, we headed for Keogh Hot Springs, where the boys sat in the thermal baths and admired the skyful of stars, talked about the meaning of life, the price of tea in china and, of course, flying.
On Day Two, Mumbles had had a serious hang-gliding injury in which he thought he had pulled a muscle or something in his shoulder while removing the tip wand on his Talon. He had offered to drive today to let it heal up a bit. Of course, while stumbling around in the natural hot springs in the dark, he also jammed his foot into a rock and started bleeding all over the desert. The boys all drew straws to decide who should punch him in the stomach and finish him off. (not really), but we all felt pretty bad for him. Its miserable to be in pain during your week of vacation.
Day Four, Tuesday, July 10 - No Fly Day and Champion Spark Plug Mines
We awoke to clouds the next day. This is a bad sign in the Owens when it happens early. The boys are used to having non-flyable days, so a good possiblity of a non-flyable day seemed to be generally accepted. After the morning routine of pastries and coffee at Schatt's bakery, breakfast and morning preparations, it was decided that I'd be loaded up with gliders as if the plan was to fly the Whites, watch developments and if it turned out to be not good for flying, we'd go look for the Champion Spark Plug mines that Crush had told us about. Donut claims to have seen them from the air while flying low to get out from under the smoke on Day One.
Well, the day continued to overcast and the sky was covered with clouds. So Donut led the group to the canyon he thought he had seen the Champion mines at. (It turns out he got lucky. The mines he had actually seen were in the next canyon up, but as it were, the canyon we drove up did indeed have the Champion mines. The one's Donut saw were something else).
The road came to an end not far into the canyon at a trail head. So I was left to rest and wait patiently at the bottom while the boys hiked into the canyon. It turns out that the hike was a good challenging one, with about a 1250 foot altitude, steep climb to 7500 feet. At the end of this climb was, sure enough, the Champion Spark Plug mines, long since abandoned. A series of huts with corrugated aluminum walls and roofs have been kept up, however, by hikers and visitors. A series of cabins, in fact, have beds with linens on them, books to read, and many ammenities. There is a longer building with food left behind by volunteers. One building had a volunteer "museum" with artifacts from the mines, historical items and some other stuff that people just left behind for others to enjoy.
The place was completely devoid of people, and in fact, one notice left behind by someone was a warning against making this hike in the summer. Since the day was overcast, the temperatures were quite comfortable for the hike, but had it been a normal sunny day, getting there would have been another story. A sign as you enter the compound, tells of a higher camp, 1500 feet higher, and well worth the hike. However, this was as high as the boys wanted to go for this day.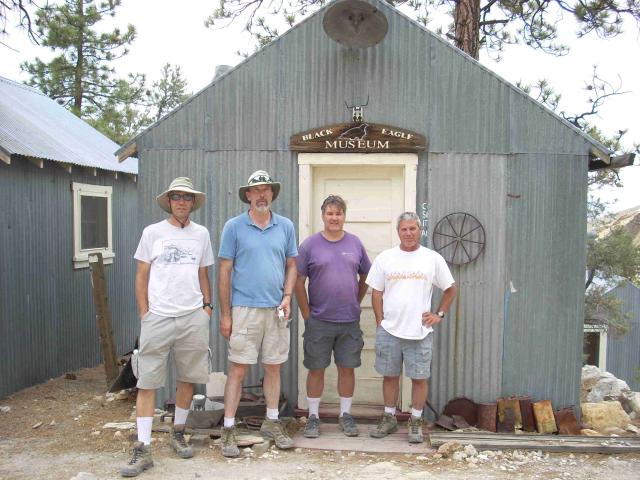 The next couple of hours, the boys played horseshoes, explored the cabins, and gawked at the items in the museum. SkyPuppy caught a good sized (5 feet) garter snake which everyone got the chance to handle for a bit before he let it go again. Someone found an alien mask in one of the cabins, so, of course, it had to be put into one of the beds, fluffing up the blankets to make it look like an alien had kicked the bucket in one of the beds there... for the benefit of the next visitors, of course.
After the hike down, some refreshments and rest at the bottom, we made a quick trek up Mark Thomas Canyon (the next one over). Now, Mark Thomas is a bonifide Tarantula ("Brother" - but that's another story), who managed to get caught in this canyon, total his glider and drown his radio (in the desert), and walk out without a scratch. It is a dubious honor to have a canyon named after you, however if you walk away, it is a good thing.
Next stop, a swiming hole. The normal course of events is to take a swim in the Owens River. This river is basically melted snow... and I hear tell, feels exactly like melted snow. There is some level of machismo that is involved in jumping in, thrashing about for a few seconds and clamboring out. This time, however, Beaver led us to an artesian spring. This is water that comes from deep in the ground and flows to the surface through a pipe. The water is pleasant and refreshing and the boys enjoyed a soak after the day of hiking and exploring.
We stopped at Bills BBQ in Bishop where the boys gassed up, checked their oil, tires and fluid levels... or whatever it is that humans do in restaurants.
Day Five, Wednesday, July 11 - Piute and Movie Night
I guess the title for this section gives away a bit of how the flying day went. The normal morning routine, when not going to Walts Point was followed. This time the boys found a new breakfast place near the old firehouse grill. Mumbles was still complaining about a bad shoulder and again offered to drive. So arrangments and preparations made, gas and cooler full, we head up to Piute. The FresoAn boys also have a plan to fly from Piute today, so we expect to seem them up there.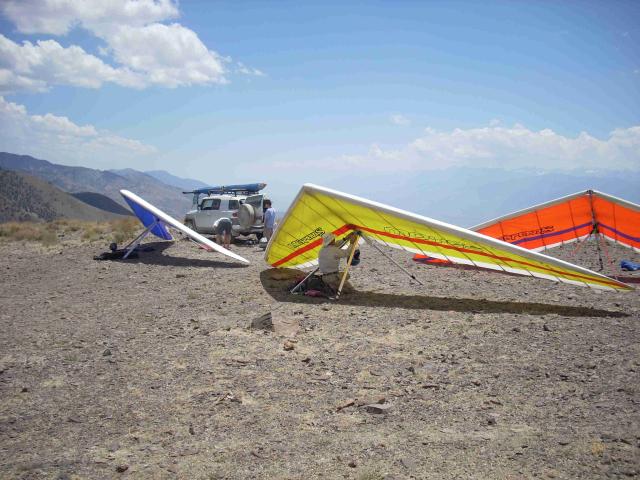 While the weather looks doable, there are pockets of overdevelopment that have some concerned. Beave decides to bag it, but SkyPuppy, Short Rib and Donuts stuff ribs. The Fresno boys play with a tent flap as a paraglider in the strong wind and eventually decide that if tents can fly, they shouldn't.
Donut launches a bit after two, SkyPuppy follows on his heels and Short Rib dallies a bit behind. SkyPuppy starts keying his radio a couple of minutes before launch and has it keyed throughout the first 15 minutes of flight, making this look like it might cause a real problem for communications and long distance flying. Mumbles tries hard to reach him, including transmissions where he tried out SkyPuppy's new potential Tarantula name. After a bit, SP figured it out and corrected things.
Seems no one could get altitude. Donut raced to the Pellizers below 10,000, but was starting to climb there, looking at 16,000 foot cloud base at Boundary and cloud streets into Nevada that looked like they might O.D. if one dallied too long. In one of those upward jerks experience in strong O.V. conditions when conditions are stong and choppy, Donut's main rope on his harness btoke. (No, not the main webbing, the main rope that keeps shoulders and knees connected). This was not necessarily an unsafe situation, but one that made it uncomfortable and very non-aerodynamic for continuing on. This, combined with the discouaging feeling of something snapping when you are in turbulence caused Donut to decide that Benton would make a nice goal for the day and finish things early enough for movie night. Short Rib followed suit and landed at the same spot. It was four in the afternoon and Movie Night was declared.
The Owens Valley trip always includes at least one movie night. In years past, some very appropos movies have been seen, including one that included Big Ears. However, this year's choices were limited to some pretty junky movies, the best of which was Transformers. So, Transformers it was.
Before the movie, however, we returned to Bishop the "back way" deviating at Laws so we could go directly to the airport and check on the TFR. To our delight, the firefighters there waiting on white lightning strike reports, told us that the TFR lifted at 8 PM that night. Woohoo, tomorrow we would be headed for Walts Point, and flying the Sierras.
We made a stop in Bishop so Donut could buy some decent climbing rope to fix his harness. The rope on the harness looked a lot like perlon. In fact, Donut had specifically inspected that rope before this flight. However, the internal strands looked like they had cotton mix in them, and had nearly sheared at the break. There was a little sign of wearing where the rope went through a ring on the carabiner, but nothing that had looked like it would actually break.. After the trip, Donut made a call to the place he thought he remembered buying the rope, and of course, they denied every having carried that rope. Naturally.
Susan Driverbabe
This was also a good opportunity to visit Susan. In past years, the Trantulas had met Susan, a regular resident at the J Diamond Ranch. The arrival of the Tarantulas, according to Susan, was the highlight of her year. She always took a day off from work and drove for the group, and the group always rewarded her with a dinner date of her choice at the end of the day. Somehow, she always took pride in being seen in town with a pile of sweaty desert rats as her dates.
Last year, Susan told the group she had MS. In fact, it was the first year she did not drive, although she offered to drive if the group flew Walts, because it is a paved road and an easy drive. In years past, she had not hesitated to tackle driving for us at Piute. She had earned the respect of the group as Susan, Driver Babe.
This year, however, Susan had a stroke and her MS had advanced a great deal and she was now in a home. Mumbles, Short Rib and Donut decided they needed to pay her a visit and try to cheer her up a bit. It turned out that Susan ended up cheering them up. Regardless of those motor skills that seemed so frustrating for her to control anymore, her humor and personality was there. She kept trying to sell them her truck. Once Susan was worn out, hugs and well wishes were exchanged and we headed for the movies.
Transformers
This was the low point of the trip for me. OK, I understand that I'm a 4WD rough and tough vehicle that can haul five gliders and five sweaty guys up the face of a steep mountain on roads made of sharp shale in 100 degree heat with the airconditioning running. I also understand (now...) that 4WD vehicles are not allowed in to movie theaters. But denying me the pleasure of first rate entertainment about cars and trucks that turn into big robots from another planet is just plain cruel and unusual punishment for no reason at all.
Anyway, the boys seemed mildly entertained, and I'll suck up my dissapointment. Donut stated the next day that he caught himself naming any ridges he flew over that did not provide lift, even though they looked like they should, decepticons.
Day Six, Thursday, July 12 - Walts Point at Last!
With the good news of the TFR having been lifted the night before, we arose early and beat it down 395 toward Lone Pine. We stopped at Carl's Junior and gassed me up. The boys had breakfast, then we headed for launch. Conditions looked good, and in fact they were. Today we had Crush with us. Mumbles, stil nursing a sore shoulder, made a doc appt. for that morning. Nobody wanted to flip a coin to drive, as it was our best chance at flying the Sierras, so we called Crush and found he was available. He would drive for everyone landing Bishop or shorter, and Mumbles would take the chase from Bishop on after his doc appt.
The Fresno boys showed at Walt's as well. We also met another small group there one flying a rigid and the other a LightSpeed. Seems like we had a lot LightSpeeds along on this trip. In fact, amongst the Tarantulas, Wills Wing was outnumbered with three LightSpeeds to two Talons (one of them a T2). There was no end to the back and forth competitive banter between what really amounts to be two very similar gliders in performance and ammenities. All in fun.
The third group's members launched, then Lolo (an ex Tarantula - a story yet to be told... maybe next year) from Fresno, followed by Donut, SkyPuppy and Short Rib. It was a good day. Donut headed North first, but even with a good head start, kept trying to get too high. Sky Puppy caught up and then Short Rib. SkyPuppy and Short Rib got to the crossing while Donut still tried to get aove the peaks at Tinemaha to make the crossing but with no success. A while later, SkyPuppy announced a landing near the base of Black, by an oasis. This is a green patch a bit North of Big Ears where there is water and a nice pleasant landing area. Soon after Short Rib announced his landing a couple of miles short of SkyPuppy very near Big Ears.
Donut hung on to a jack-rabbit fart and drifted downwind over Short Rib, then past Skypuppy, despite Skypuppy's invitation to him. "Land here, we'll swim, we'll have a beer...." The slow climb gained momentum and Donut was at 9000 feet, diving into the mountains. There he shot up to 14,000 feet and headed North. Mumbles had since come on the radio and picked up chasing Donut as Crush and I picked up the rest of the gang and headed for a restful rest of the afternoon.
Donut made record time to Boundary Peak and then pointed into the Nevada desert, which, unfortunately had nothing to offer but sink. At the top of the incline into dust devil valley, Donut was about to bag it in, when he caught a small thermal that took him to 15,800. "I have Jackass Flats and maybe Luning on a glide" he announced, and Mumbles led the way down the dirt road into dust-devil valley.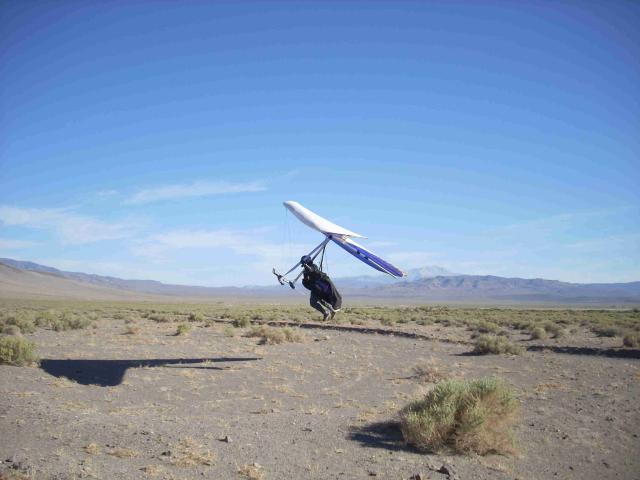 The bad thing was that outside of the thermal, there was nothing by 600-900 feet/minute down. So, "Luning on a glide" became, "I don't know if I can clear the mountain range before Jackass Flats", and sure enough he couldn't. Donut flew the 900 ft/minute down sink all the way to the ground and pulled off a nice landing right next to the vehicle.
The flight was 125 miles and the longest of this trip, although Short Rib was to forge the furthest into Nevada just the next day.
Day Seven, Friday, July 13 - Deeper into Nevada
Donut complained of being sore from flying the day before and offered to drive. Mumbles complained of a sore shoulder and offered to drive. SkyPuppy complained of being tired and offerred to drive. So SkyPuppy, Donut and Mumbles all drove for Beaver and Short Rib. That's gotta be a first. Conditions, as Donut put it, were "consistently mediocre" this week, so we got a lot of flying days, tiring out the pilots, but not a lot of superlative flights. Last year, Donut flew 150 miles and wasn't trying nearly as hard as this year.
Conditions weren't stellar. Beave launched first and worked hard to stay up. Short rib looked like he was working pretty hard as well after he launched. The driving party headed down the hill. By the time we got to the bottom, Beave had announced his landing in 30 mph winds. The report of 30 mph winds provided Short Rib the motivation he needed to avoid landing all together if possible.
We found Beave and helped him pack up. He had found a nice shady spot to break down in and was ready to go pretty quickly after we got to him. With a gator ade in each fist, he climbed aboard the vehicle and we headed after Short Rib. OK, picture this..... four drivers chasing one pilot.... into Nevada.
We reported wind to Short Rib who was gaining altitude with each "altitude and location" report. The wind was 25 mph from the S, 30 mph from the South, 20 mph from the South 30 mph from the South, until we got to the water ski lake... at which point it was calm. Weird. Where does all that wind go when that happens? Evidently up, because Short Rib seemed to be having no trouble staying up.
Beaver reported to us that he had never been to Janies. So, while we let Short Rib decide if he was going to get enough altitude to fly into Nevada, the boys proudly showed Beave Janies. Now, Janies has been a thriving business many years ago. Today, it is some broken down trailers bolted together to form a building of sorts. It is full of a bunch of little rooms, providing hints of the sort of activities that once went on there. It is ransacked, delapidated, home to bats, and who knows what other animals today. Beave says, "Jeez, guys, thanks, I'm really glad you showed me this".
I guess you have to have some appreciation for the history of Janies. It has a runway next to it and was probably frequented by small plane pilots for some time. But it is also the 100 mile mark for flights originating from both Cerro Gordo and Walt's Point, and a very nice landing spot, with a good windsock at that. The fact that the 100 mile mark for hang-gliding was also a brothel has some form of weird humor associated with it, but I'm not sure what. Hang glider pilots aren't really the type of person that frequent that kind of place, but we were grateful for the nice landing area.
Anyway, Short Rib announces that he is Nevada bound and we head for Montomery pass. As if this were the set route that all pilots had to adhere to this year, Short Rib takes the usual route across dust devil valley with us meandering along beneath him, thinking, "well we know where this ends". But we were wrong.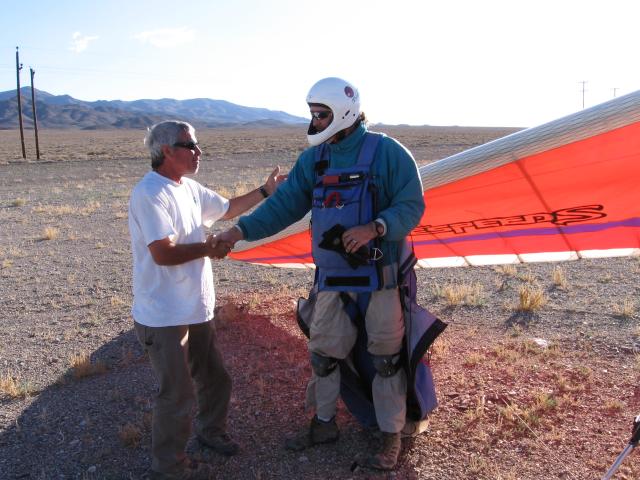 This time, Short Rib gets up and clears the mountain range, flying into Jackass Flats. We skeedadle, back out to highway 360, over to mina junction, up to Mina (past the lobster's illegal sign), stop for gas (never drive past mina without getting gas), then head up the alluvial fan toward Jackass Flats. Just as we are arriving at the top of the hill, Short Rib announces that he can make Luning. We 180 back to the highway and head for Luning. Short rib announces a landing just outside of Luning and we are there within moments of his landing. Short Rib makes it the furthest of anyone into Nevada.
Of course, now, we are deep enough into Nevada to consider Mina for dinner. Turns out that the restaurant in Mina is under new management. Now this is a big deal in Mina as there are very few businesses there. The only restaurant is also the only bar and also the town meeting place and probably host to a lot of central activities to Mina. The only other businesses there are the gas station and, of course, the guy selling rocks (no lie, for years, there has been a truck parked by the highway, piled up with rocks and a sign reading "Rocks for sale").
The new restaurant owner was either very generous or not a very good businessman as we happened on "Free BBQ night". Sure enough, he invited the boys in for a free BBQ chicken dinner with potato salad and beans. There was some concern that he was just cleaning out the freezer of old food after the restaurant purchase, but no one seemed to get sick, so in retorspect, it was a bona fide generous offer to get people to come see the new place.
The new restaurant owner was also quite pleased with his mineral collection. In fact, it seemed t hat the restaurant was incidental to having showcases where he could display his collection of many types of stone samples. It was genuinely interesting that the desert around us had so many amazing minerals to appreciate.
Last year, Donut wrote about a town 2.5 miles from Mina, where there are three businesses. Or there used to be three, but now there are two... well there used to be two... The first, which no longer is is the lobster farm. The other two are the Playmate Ranch and the Wild Kat Ranch. Last year, the boys knocked on the door of the Wild Kat Ranch and announced their intention of buying t-shirts for their wives, which they did. This year, the t-shirt to be acquired was the Playmate Ranch t-shirt. Turns out, Playmate is closed forever.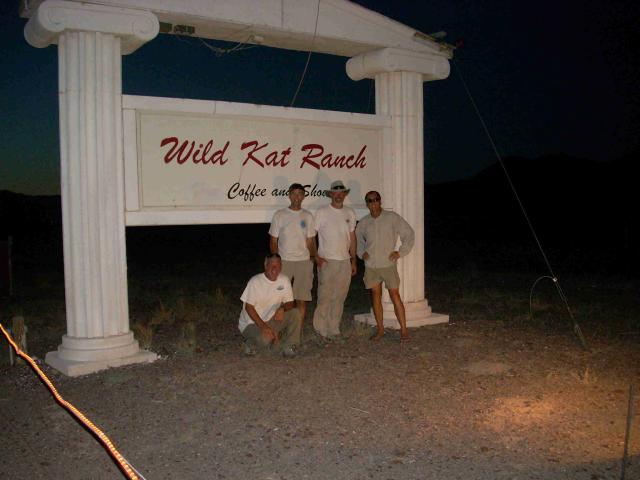 Well, not needing to buy Wild Kat Ranch t-shirts again this year, the boys posed for pictures in front of the Wild Kat Ranch sign, opening themselves up to any kind of black mail should they run for political office, and we were on our way.
At Mina Junction we were told that 360 was closed because of an overturned truck, so we took the long way to Coaldale, then down 6 back to Bishop. The long drive home was filled with good conversation.
Day Eight, Saturday, July 14 - Fly Home Day
Today we head home. However, Trantula tradition dictates that the last day of the trip be spent trying to fly home. The idea is that to either launch from Walt's or Piute. If launching from Walt's never make the crossing, but stay on the Sierras. If launching from the Whites, fly to Boundary, then head out Benton and keep going in the direction of Mono Lake. At Mono Lake, turn left, cross the Sierras, float over the central valley, maneuver the coastal ridge, into the silicon valley and land at the park nearest your home. Rim (for short), who did not join us this year, has made it the furthest, landing at the shore of Mono lake.
Given the lack of Walt's Point time this week, the choice is made to head there for the last day. SkyPuppy and Short Rib decide that they may not drive home today, and instead will try again for some distance into Nevada. Consequently, they decide to hire Crush and drive SkyPuppy's truck down. Beave is satisfied with the week and will take a leisurely meander home instead of fly. Mumbles is mumbling curses under his breath at old age (turns out the doctor says he has bursitis) and supresses his disatisfied flight week to drive. Donut is champing at the bit. The day looks promising.
The normal "fly Walt's" routine (with a couple of extra steps for leaving town) is follwed and we find ourselves wind blowing down. However, the wind standing directly on launch is blowing up. So we wait. SkyPuppy sends up a sounding balloon and it doesn't look like a cork caught in a waterfall.... so we are hopeful. After a bit, Donut takes his glider off the car. Interestingly enough, Lolo follows suit.
Now, I overheard Donut talking trash to Lolo just yesterday. He said something like, "Lolo, if you launch before I do, I'll catch you, if you launch after I do, I'll see you at breakfast tomorrow morning". OK, watching the dynamic here on launch today it would seem that Lolo took this to heart. When Donut made a move, so did Lolo. When Donut stopped and waited, so did Lolo.... al the way up until Donut launched, with Lolo on his heals.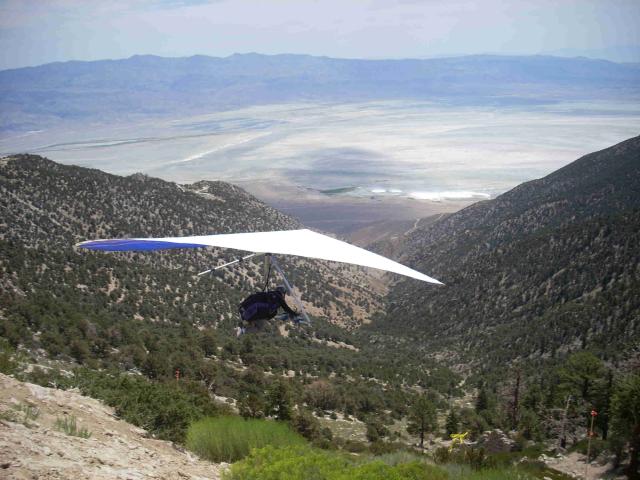 The story here needs to be told from Donuts perspective, after all we do have a bit of a mind meld going on. Donut headed North as soon as he could clear Wanoga peak. and Lolo followed. Donut took the rim, while Lolo took the beeline to the next ridge. As Donut gained altitude, Lolo headed to the next ridge. When Donut saw what was happening he pulled the VG and sped past Lolo to the next ridge. For a while, the thermaled together, then Donut sped on, tending to stay higher and deeper in the mountains, while Lolo sped along out in front thermaling up at each peak. There was definitely some sort of competition at hand here.
At some point, Donut raced past Lolo while he was lower and working one of the ridges, to the next ridge. It was now after noon and the wind we had seen blowing down on launch earlier was starting to make its presence known. Donuts attention turned from trying to banter with Lolo, to trying to get above the turbulence if possible. Thermals would lift with promise of quick altitude, only to respond change their mind with violence, like a big handball playing giant, using the left hand to cup under the glider and raise it, then swat it down with the right. Half a turn good in the thermal was good, the other half was terrifying.
Donut announced on the radio, "I'm in glider-flipping air and am headed for the valley, and will probably land just North of Manzanar". The glide out was a lot easier than expected, which seems to be par for the course with the T2, and Donut arrived 2 miles North of Manzanar with 3000+ feet to spare. Once the acceptance that the freeway of clouds that crowned the Sierra Nevada, was nothing but an empty promise by mountains in a crabby mood today, Donut decided to opt for the easiest landing possible. Manzanar airport, is a paved runway you could land an airliner on, but it is shut down and not used for general aircraft. It makes a nice landing area free of brush and bush induced turbulence near the air, so Donut pushed South into the 20 mph headwind maneuvered down and landed.
Unbeknownst to Donut, Lolo had decided to continue to push the competition by drifting downwind for some cheap miles. Had he known that Lolo needed a whoopin, he would have burbled his way to at least 100 yards past him. Alas, the best we could do is simply report over the radio that "wherever it is that Lolo landed, Donut landed just beyond him". Next year will take this up again.
Alas, Short Rib had the shortest flight of the trip, and I'm not sure if SkyPuppy even flew. We met them back in Bishop after dropping Crush off and had lunch, then hit the road. The drive home flew by as Donut and Mumbles discussed politics, religion, and all the taboo subjects one should keep to themselves, then followed by solving the problems of the world. Maybe they'll write a book one day.
Me? well, what can I say, I done good. I think I did well on what I was made for and expect to be part of the Owens Adventures to come. There is one thing, however, after eight days of carrying 5 sweaty guys around the desert for hundreds of miles, I've lost my new car smell forever.
A Note from Donut
Last year, after returning from the Owens and full of the juice we get when we fly this amazing place, I read the Oz Report and found stories of the world record attempts from Zapata, Tx. The accounts and videos sounded so mundane compared to the experience I had just returned from that I couldn't help myself, and had to just poke at it a bit. So I did, here.

Davis' response was

Having had all those things happen to me many times, all I can say is, "Been there, done that." I'm much more interested in enjoying the air in a intellectually challenging flight competing or going for a record. The Owens seems to be a great place to fly sailplanes, but an absolutely stupid place to fly hang gliders. But I'm just stating my opinion directly and clearly so that you can understand me.

This year, as I took in my view from 18,000 feet above Boundary peak, I looked all the way down the deepset valley in the U.S. and could see the Inyos, the Sierras and the Whites. I reflected on the long flight I had just had in which I had experienced the power of strong lift and flown right up next to granite walls of several thousand feet. I had seen my shadow race up the side of a ridge and then down the other side as I crossed over a saddle. I'd taken in jagged granite peaks, aqua blue lakes and snow in July. I could see Mammoth across the valley the Devil's postpile area, the volcanic terrain butted up against a desert teeming with life and endless possibilities for exploration. I had just flown over places in 10 minutes that took us all day to hike and could measure 10 miles on the ground between my thumb and forefinger. I turned and looked deep into the Nevada desert, with endless choices of directions to fly, countless stories to be told about the areas flown over and landing areas.

And it struck me, how hollow, "Been there, done that" sounded to me. Where in this place had he been, and what about this place had he done that caused him to prefer watching Texas go by under his wing in pursuit of a pole-sitting competition?

This is my 31st year flying hang-gliders and my 16th year flying hang-gliders in the Owens Valley. I can state authoritatively that the Owens is the pinnacle of the hang-gliding experience, and something achievable by all pilots wanting it. Only the short-sighted would call it stupid.

---

If you want to contact Crush for driving services in the Owens Valley, click here.