Hawaii '99 !!!!!!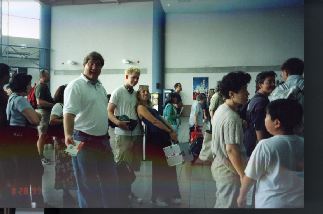 This was my first time to Hawaii as well as my kids', Jake and Melody, first. Denise had been here a few times before, sometimes passing through from the Philippines. In fact, this is the first piece of US soil Denise saw when she was 8 years old. George and Winnie generously offered up their timeshare for a week stay on the Big Island. It was to be a life changing vacation.
We flew to LAX and met the kids curbside, then jumped on a big ole airplane to Honolulu.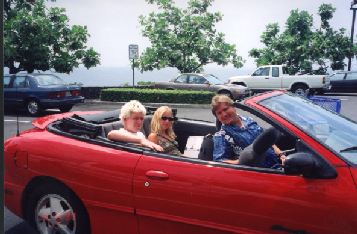 We arrived on Saturday, Aug. 28. Now, if you've never been to Hawaii, and the first island you visit is the Big Island, you are in for a dismay when you first land. It looks as if you've arrived on the moon. The NorthWest side of the island is by far the driest, emptiest, most desolate piece of terrain you can imagine. Playground only for geologists (and quite interesting for them since the ground is all lava). We were a bit encouraged when we got to our resort to find a beautiful coastline and vegetation. The temperature is only slightly perfect at all times, and the feeling the tropics bring makes one feel rejuvenated almost instantly. The next few days were to prove most fun and delightful. Melody was all in favor of the convertible upgrade at the car rental.


---
We Kayaked, swam, laid on the beach, snorkeled...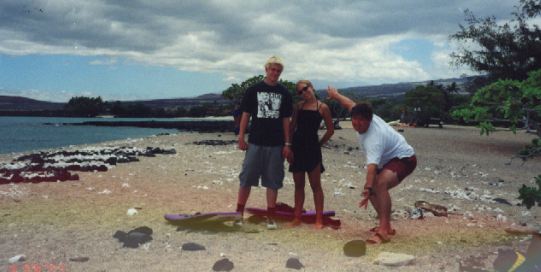 Watched some surfing (though we really wanted to do it)...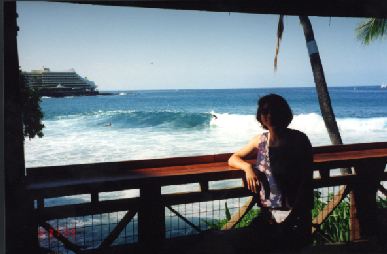 And, of course, parasailed!!!


---

On Tuesday, we drove around the island (mostly in the rain). We got a chance to see some beautiful coastline, eat guayavas (no, not guavas, gringo) ripe off the tree, drop from a rope swing into leptosperosis infested water, and visit Akaka Falls. The falls were awesome, and we posed for some great shots.

.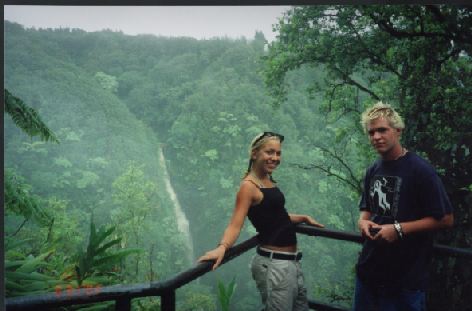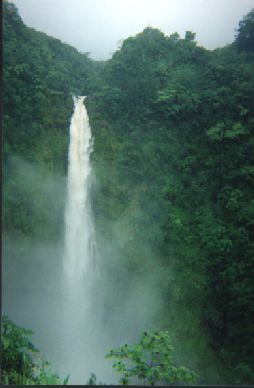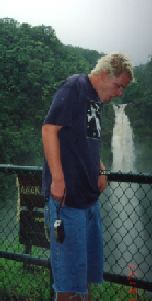 ---

Followed by the VOLCANO!!!!! This picture is of the upper crater at 3500 feet altitude. The island actually has two mountains that are almost 14,000 feet high. One, Mauna Kea, can be visited by driving up to it, which we didn't end up doing this trip, but it is known as a skiing area in the winter. The other, Mauna Loa, is a volcano and is completely inaccessible Here we are in the shadow of Mauna Loa, but at a completely different volcano. After viewing this we drove down to the edge of the crater and peered down into it. There is steam and smoke coming out of center and it all smells a bit like sulfur. We then drove down to the coastline on "chain of craters" road and watched as hot lava flowed into the ocean 3 miles away. We went when it was dark and viewed through binoculars. What an awesome sight!


.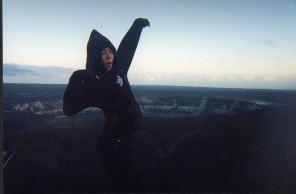 Did I say the crater was at 3500 feet? Even though that doesn't seem that high, the wind made it quite cold here.... as demonstrated by these two.


---
Melody was in her environment ....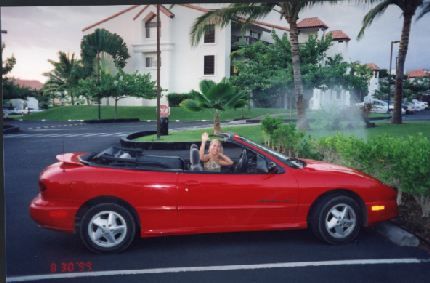 Denise was in her environment ....


Don was in his environment...


And Jake was in his ...



---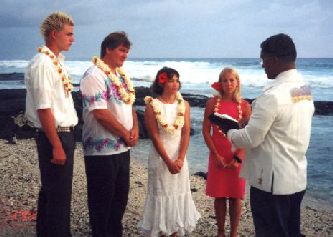 We saved a little surprise for the kids on Wednesday. After Parasailing and spending the afternoon picking up souvenirs for the trip home, we sat them down and asked if they would be the witnesses to our wedding, which was about to occur in an hour. This, of course, blew them away, and we spent that evening conducting a wedding, followed by a Luau with enough food to actually fill up two teenage kids (believe it or not).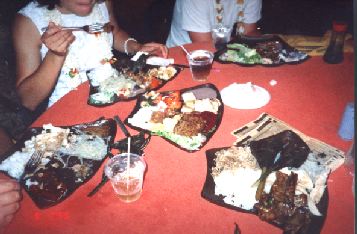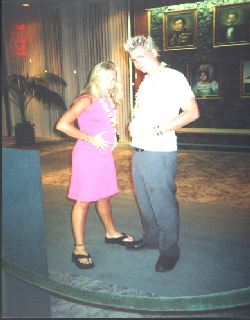 ---
Dear Mom,
Having a great time in Hawaii....
Wish you were here!
Love, Mel


---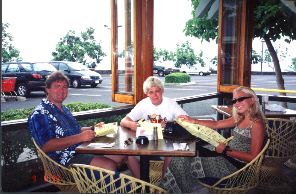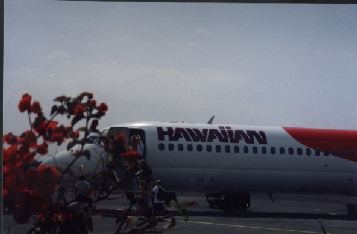 The next day we fed the kids lunch and sent 'em home. (It was actually, already planned that way. Jake had to be back at work on Friday and both needed to get ready for school the next week.) Denise and I enjoyed a couple of great honeymoon days.


---
Thanks for letting us share this trip with you. We had a great time!


ALOHA!!!